Over the last few years I've come to understand the importance of a national modern slavery helpline. There are now several across the world and they've become vital services for potential victims, members of the public and organisations. But I sometimes worry there is a lack of awareness of what it really takes to run a busy helpline responsibly and why these helplines are so important. I will to try to give a sense of what it takes to setup and run a successful helpline. Much of this is based upon my career experience working with various for-profit and non-profit service desks and helplines, as well as my experience volunteering with Unseen in the UK.
Why do we need National Modern Slavery Helplines?
In a person's life there are pivotal moments that affect everything that happens thereafter. For many of us these are decisions about a job, or about what exams to take. Where to live. Perhaps a moment at the beginning of a new relationship. But for many people that moment comes when they take the momentous decision to call an anti-slavery helpline, and ask for help. Victims of slavery will often have been exploited at various stages in their lives. Many will have been trafficked and end up in a country they don't fully understand - many won't know the local language. Victims are made to feel powerless: passports are taken; money is withheld. After months or years of surviving this brutality, if a person can summon the strength to reach out for help, then it's imperative that a service offering support is qualified, prepared and confidential.
A few years ago I went to Greece to volunteer with organisations tackling the refugee crisis. I learned that confidential non-profit services are vital for vulnerable people. People's experiences will often have led them to be suspicious of law enforcement or other government organisations. Making the leap to ask for help can be traumatic and frightening. Empowering a caller to make their own decisions will earn trust and begin a person's journey to escaping a situation and rebuilding their life.
In that moment when a person calls, they may only have minutes to spare and their situation could be precarious. When I think about this scenario my first thought is that it's unconscionable for someone seeking help to ever be met with an answer-phone message. The helpline must be available 24 hours per day. Every day. Given their situation, the helpline team must have the knowledge and human qualities necessary to offer the reassurance and empathy to build trust and support a person on their path to freedom and recovery.
What's involved?
Setting up and running a sizeable anti-slavery helpline is not trivial. During my career I've seen big and small service desks (for-profit and non-profit) and sadly there is an enormous variance in quality. I regularly volunteer with Unseen UK who operate UK's Modern Slavery Helpline service. This helpline (I'm happy to say) is one of the best and a benchmark in the sector. Perhaps some people think that a large and busy national helpline can be just a desk, a few phones and some people taking a call. Indeed, it's possible to start advertising a phone number without any questions asked. But it might quickly fall over - so let's step back.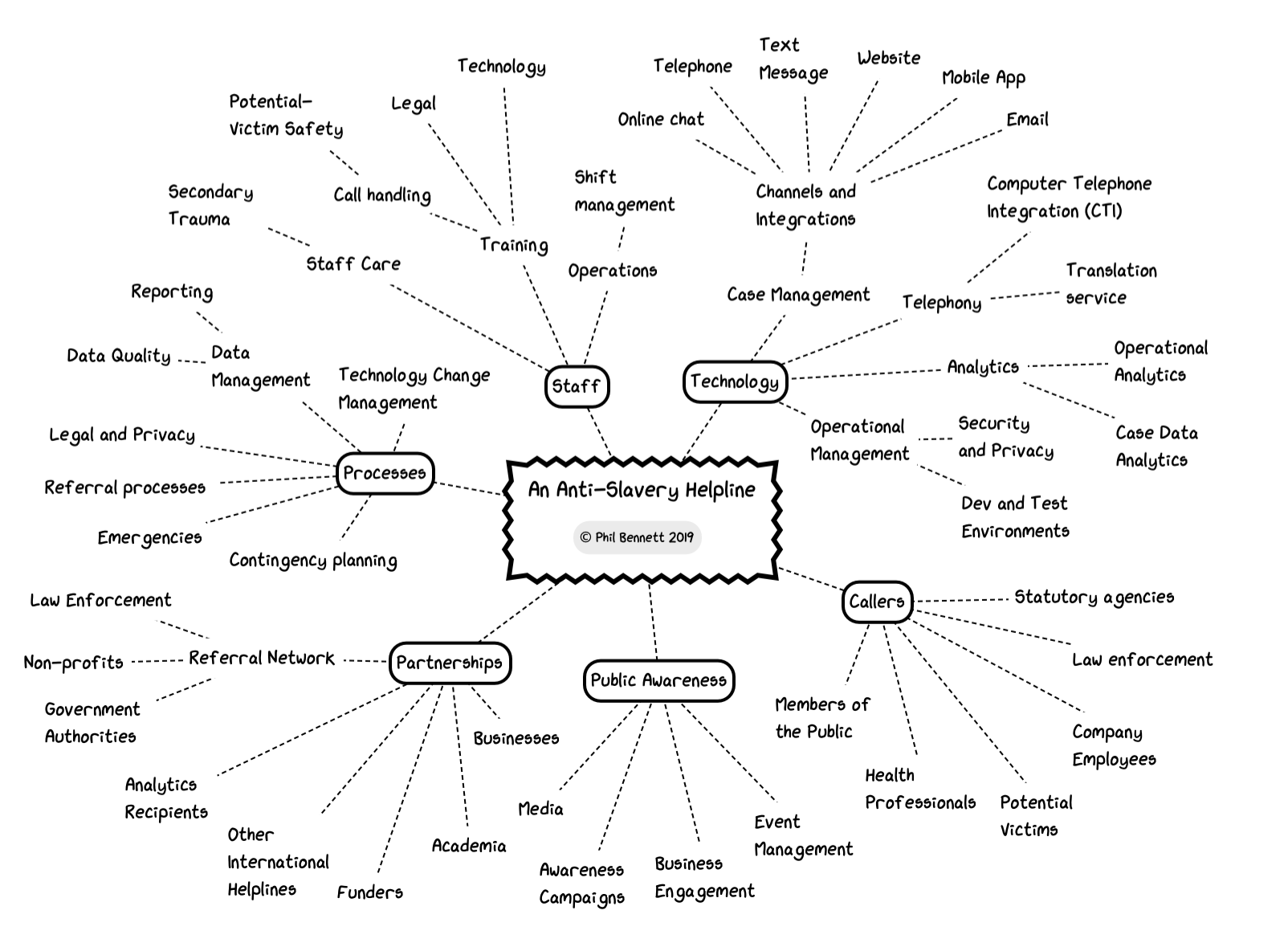 A national helpline is likely to receive dozens of calls over a 24 hour period and this has several implications. Firstly, it means that a helpline needs staff handling cases on shifts and the necessary supervisor structures and workplace systems to handle this. Secondly, receiving multiple calls on the same number at the same time requires helpline telephony infrastructure which is set up, managed, and integrated properly with desktops. This is one of several vital IT systems required. Many callers may be potential victims of trafficking and could have been trafficked from other countries. Inevitably this can cause language barriers. This isn't just an inconvenience for an anti-slavery helpline. A language barrier can quickly make it difficult to develop trust that will enable the helpline to support a potential victim. It means that many large helplines will need access to an on-demand multi-lingual service to communicate clearly and this needs to be part of the operational processes of the service.
Many helpline cases involving potential victims will last many months. It will take many calls offering support and help before someone will feel comfortable taking the next step. This means calls coming into the helpline will often be related to an existing case, and so there will be many cases running concurrently. Helpline cases related to slavery will often involve many different people from various organisations. A helpline will often become a centre of coordination on a case because of their relationship with the person or persons seeking help. Therefore it's important that the helpline advisor team has access to secure case management and collaboration software to manage vital case data. I will probably go into more details about case management in another blog post, but for now some of the important aspects related to helplines are summarised below.
Case management software handles all of the data related to helpline's case activity. The system must be configured with a data model that meets the operational requirements of the helpline, as well supporting reporting requirements, regional requirements and the needs of advisors who will need to relay vital information to potential victims. As you might imagine, a single helpline case might have dozens of connected records. The successful management of a helpline always requires a particular focus on data quality, and in fact larger helplines will often have dedicated staff responsible for data management. Workflows and business process management configuration is required to handle the case lifecycle; communications from other channels such as apps and websites; and referral processes. A security model must be developed which will codify data access control requirements of the helpline. The user interface must be carefully designed so that advisors instantly have the data they need to properly support a potential victim. Obviously, sensitive data must be operationally secure and managed appropriately. Careful consideration is required when determining appropriate administrative and reporting access and control policies, as well as legal privacy requirements.
Most anti-slavery helplines will receive calls from potential victims, businesses, health services, law enforcement, members of the public and various other statutory agencies. So there will be a wide variety of different types of cases and call scenarios, and many will be very complex. Members of the team will normally need several months of full time training before they are prepared enough to embark in their role as an advisor on a national helpline.
Anti-slavery helplines aren't just about handling calls. Firstly, the nature of a national helpline requires them to build a large referral network of partners across the country - coordination is a big part of the work. Usually a helpline will need to collaborate closely with various Government organisations too. Partner organisations may also benefit from the detailed analytics that can be generated using helpline data, providing intelligence on the changing picture of trafficking and slavery in the country. Indeed, partnerships in general are essential. For example, UK's Modern Slavery Helpline has enjoyed support from technology partners, volunteers, businesses and government organisations. But a national helpline must also be a generous partner - supporting and reinforcing other organisations in tackling slavery. Helplines must encourage positive partnerships across all sectors.
A national helpline service is an important way to increase public awareness about modern slavery. Awareness improves public vigilance and also increases the chance that a victim will discover the helpline and call. Helplines have a responsibility to do all they can to promote the service within the media and businesses. (Of course, they also have the challenge of preparing and planning for the inevitable spikes in call volumes caused by media attention!).
In recent years, national modern slavery helplines have become vital and proven national infrastructures that provide public awareness as well as support for potential victims and organisations. Please support your national helpline - let's do all we can to strengthen and nurture these services!
Call the UK Modern Slavery Helpline on +44 (0)8000 121700 or go to www.modernslaveryhelpline.org.